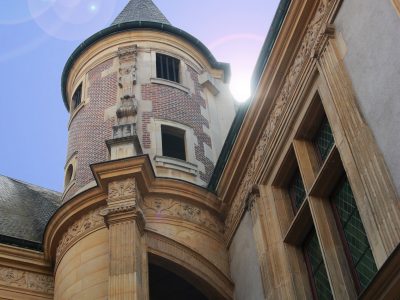 John Baptist de La Salle was born there on April 30, 1651, as recalled by the statue placed in 1952 in a niche on the façade.
Since May 2015, a new museum tour has presented the history of the Institute of the Brothers of the Christian Schools and their founder and reality in 2016.
The Hotel Saint Jean-Baptiste de La Salle was built in 1545 by a wealthy cloth merchant. You can read the various ornamental motifs where you can find the tastes of the Renaissance. On the interior façade (1556-1557), turrets and spiral staircases, crowned with an elegant bell tower, recall the castle of Blois.
DETAILS OF OPENINGS
From March 7, 2018 to December 31, 2018: Tuesday to Saturday from 2pm to 5pm
Annual closing in January
Average length of visit: 60 minutes
PRACTICAL INFORMATION
Spoken languages: French, English, Spanish
Animals accepted: No
HOTEL SAINT JEAN-BAPTISTE DE LA SALLE
4 bis rue de l'arbalète
BP 40332
51062 REIMS
France
+ 33 3 26 97 34 79
reservation.hdls@gmail.com
BOOKINGS